Review by: Ann M. Mills, M.S.Ed.
Whether kids live in snowy regions or not, they love the idea of "bringing something to life," and that explains the enduring fascination with Frosty the Snowman. The popular storyline of a snowman who magically comes to life to play with kids is revisited in a colorful hardbound book, rendered by artist Wade Zahares. It's a new book, yet its fanciful, retro style gives the sense that this is both old and new – and that might appeal to the kids and to you!
But there's more to this retro appeal: the book comes with a CD that contains a new recording of the Frosty the Snowman song, performed by Kenny Loggins. You might remember that Loggins made his mark in children's music decades ago with his "House at Pooh Corner" recording. He has produced two additional songs for the CD (both of them in a folk vein and kid-friendly, although not particularly wintry), which adds to the value and year-round benefits of the package.
*****Extra Activities*****
1. Build a small, snowy village as a tableau for the Frosty story. Here are some ideas to get started:
Put down a sheet of cardboard or posterboard and draw in streets.
Use milk cartons or small boxes to make houses and buildings.
Paint everything!
Use cotton balls or shredded white paper for snow.
Styrofoam balls or marshmallows and toothpicks can be used to build Frosty.
Sprinkle glitter to bring out the magic!
2. Have a snowman party!
Borrow a stack of books related to snow and snowpeople from your library.
For inside fun, borrow a snowman movie or cartoon. Do a craft, making snowpeople out of marshmallows or styrofoam balls and toothpicks or pipe cleaners. Enjoy hot chocolate and cookies!
For outside fun, build a snow family and dress them up! Maybe a cat or dog too. Then, head inside for hot cocoa, snowy white popcorn, a story and short game or cartoon.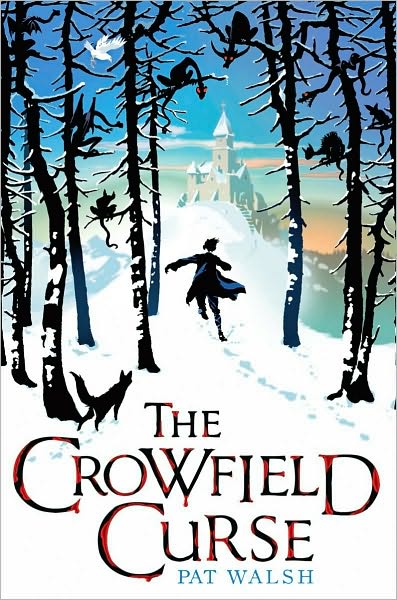 Review by: Ann M. Mills, M.S.Ed.
When William loses most of his family in a fire, the townspeople are a little wary of him. After all, he was the only one who didn't perish in the fire. No one offered him a home and he was sent to live at the small, cold, gray stone Crowfield Abbey, where he worked hard for the monks all day to earn his keep.
The dreary, hard daily life at the Abbey is revealed through the eyes of William. But, his life is about to change. One day while gathering wood he hears whimpering, and he discovers a talking creature, caught in a trap. William frees the creature and takes him back to Brother Snail at the Abbey, hoping the monk can help it. William learns that the creature is a "hob" and starts to realize that there are many things in the
forest that he cannot see.
Soon, a mysterious guest comes to stay at the Abbey with his strange servant. William unwillingly finds himself connected to the curse of Crowfield and other unseen dangers in the woods. This book has a nice tension to it, but is not rocking and rolling with action. Rather, it unfolds the secret of The Crowfield Curse. It has some nice, descriptive language as when describing horses starting to show anxiety..."The other two danced nervously, eyes rolling and nostrils flaring as fear infected them."
The author sets up the end of the story for a sequel, which I'm sure is coming!
*****Extra Activities*****
1. Get a long roll of drawing paper and create an abbey, the grounds and woodlands
surrounding it! You could add mystical fairies and other creatures in the forest.
2. Find books at the library that describe everything about monks and abbeys - today
and in history.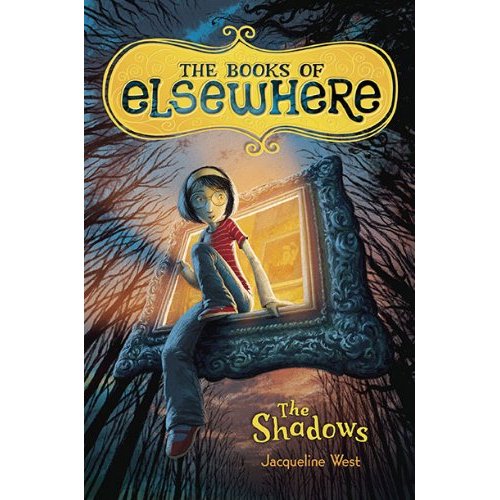 Review by: Ann M. Mills, M.S.Ed.
Everyone has studied a photo, a picture in a book or a painting on a wall and dreamed of what it would be like to be able to be in it. We can't, of course, but 11-year old Olive, who has just moved into a creepy, old mansion with her parents, finds that she can climb into the paintings on the walls of the house by using some "magic" spectacles she finds in an old dresser drawer. However, intriguing as that sounds, Olive finds that travel in the paintings is spooky, and full of danger and mystery. Olive's parents are conveniently oblivious to her daily adventures and are traveling to a convention at the end of the story when she unwraps and solves the scary secrets of the old mansion. I think this book was published with "series" in mind, so if your kids like it you might look for more to come.
***Extra Activities***
1. Get out the old easel and paints and engage your kids in painting again... maybe work on a painting of their own secret mansion or a rain forest scene with lots of animals and trees and flowers...imagination is a wonderful thing.
2. Next, dream what it would be like to be able to go into your painting and write a short story or mystery.
Review by: Ann M. Mills, M.S.Ed.
Celeste is a little mouse who lives below the floorboards of a plantation house, contentedly weaving baskets. One day she finds her mostly peaceful life is threatened when the family cat blocks the entry to her nest! Celeste is forced to climb upwards, and finds herself in the room of Joseph Mason, the 13-year-old apprentice of renowned naturalist John James Audubon. Joseph, who is a bit homesick, is delighted to have Celeste stay with him and carries her around in his pocket. Audubon and Mason only stayed at the plantation for a few months searching for, discovering and sketching the native plants and animals before moving on. So, where will Celeste find a new nest when they leave? This story can be charming, but young readers may have to ask what some of the words mean: adrenaline, botanicals, bemusement, etc. Also, the account of the killing, posing and pinning up of a woodpecker to allow for its sketching may be a little strong for some kids (although it does describe how artists were able to study animals and to sketch them accurately.) The pencil drawings throughout the book are very well done and are very effective in supporting the theme and story line.
Review by: Ann M. Mills, M.S.Ed.
This is an exciting, action-filled book - a "fun ride" that even adults may enjoy reading. It starts mysteriously with a note to readers to warn them that they may be getting involved in a "dangerous" adventure. Next the Kane kids, Carter and Sadie, start to expain how it all began, taking turns speaking into a microphone to record the story. (Although I found this technique a bit annoying, I did like the chapters being alternately told by Carter and Sadie to show their unique perspectives of their family and their adventure). The adventure begins with Dr. Kane, an Egyptologist, taking his kids on a visit to a British Museum. Once there, he causes the Rosetta Stone to explode. A "fiery" figure appears, who then challenges Dr. Kane and shockingly makes him disappear right in front of his children! Bewildered, Carter and Sadie begin to uncover their family's strong connection to Ancient Egypt, its gods and pharaohs! They meet Egyptian magicians, discover what "powers" they themselves have and fight their way through dangers and tasks to try to save their father. This book will stir the reader's curiousity to learn about life in Ancient Egypt and visit the library to borrow books. Kids might like to try try their hands at drawing some hieroglyphics and making secret codes. The author tells us at the end of the book that magicians really existed in Ancient Egypt and that some of their boxes, curved wands and other items are on exhibit in museums, so a visit to a cool museum may be an eye opener. Oh, and if you like this book, you just know there will be a sequel.
Review by: Ann M. Mills, M.S.Ed.
 When I first started to read The Magician's Elephant I thought that it would be lots of fun to read aloud because there is a lot of dramatic language. The story is about an orphan named Peter who is trying to find out if his sister still lives. His only clue to her whereabouts comes from a fortuneteller, who tells him to "Follow the elephant." Although it is a story with a bleak setting and situation, it is a story of wondering, hoping, wishing and loving. I think it will be better received by children who are a bit more sophisticated and philisophical than the average age 9-12 reader. The characters are not well-developed so I found it hard to identify with them. The beginning and ending of the book are "magical." This book is worth checking out to see if you would enjoy reading it with your kids.
Review by: Ann M. Mills, M.S.Ed.
 This book is just good fun! It's a page-turner that will make kids chuckle as they read about the mishaps and missteps that Greg Heffley makes - and how he handles them - as he winds his way through his first year of middle school. Everyone will be able to see themselves somewhere in this book. The illustrations are simple, but a lot of fun to look at. Your kids or students could journal a story about something that happened to them at school and draw their own cartoon to match. After you have read the book, definitely rent the movie to watch and discuss how the book was used in the film. Then read the rest of the series too!
Review by: Ann M. Mills, M.S.Ed.
 March is officially Good Nutrition Month, but we want to encourage kids to think about healthy food choices all year long and that will be easy with this fun set of 50 colorful, wipe-clean recipe cards.  The pack includes safety and cleanliness guidelines for working in the kitchen as well as healthy hints and fun facts on each card along with the delicious-sounding recipes.  Teachers might like to buy this, then allow students to pick out a card every weekend to try with their families.  These look like recipes that everyone would eat:  Banana Pancakes, a Breakfast Tortilla, Mini Pizzas, Chicken Drumsticks, Rainbow Beef (stir fry) and Crumbly Cobbler!
Review by: Ann M. Mills, M.S.Ed.
Fans of The Five Ancestors book adventures will want to snatch up this final installment of the series - Dragon.  On his website, author Jeff Stone talks about how he practices martial arts every day.  He visits schools to talk about his books and the nation of China, and to show students the animal fighting postures that that are styles of characters in his books:  Tiger, Monkey, Snake, Crane, Dragon, Mantis and Eagle. My favorite chapters are the ones where the author describes how Long, the Dragon, learns to ride different horses. There is fighting and violence in this tale, but reluctant readers are likely to be drawn in by this adventure story, set in a mysterious and distant land. Since the names of the numerous characters can be slightly confusing if your child hasn't read any of the Five Ancestors books, the first book in the series - Tiger - is where they should start.